Alvin Chang,HouseCall Physiotherapist(Sydney Univeristy,1993),personally delivering quality home visit.Tel.6743-88-29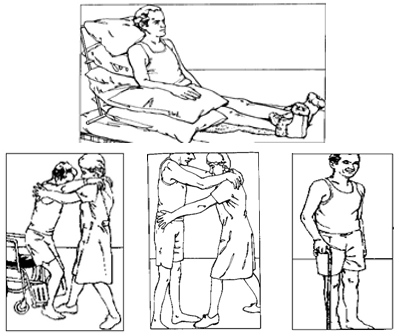 Alvin Chang Siang Hee

HouseCall Physiotherapist & Owner,
graduated from Syndey University,1993,
personally delivering quality home visit.

Tel : 6743-88-29 , 6748 4241 ,


He specialises in stroke rehabilitation.
Most importantly, he does not employ any staff and personally attend to the patients.
EMPLOYMENT HISTORY
1993
:
graduated from Sydney University.
1993-1994
:
Singapore General Hospital
1994-1995
:
employed as a traveling physical therapist in the USA, in skilled nursing facilities:
Dallas-Texas, Indianapolis-Indiana, and
Okeechobee- Florida.
1995-1997
:
part time sports physiotherapist at Singapore Sports Council and part time house call physiotherapist.
1998-
:
full-time house call physiotherapist in Singapore.
PROFESSIONAL MEMBERSHIPS
Licensed to practise in Australia since 1993.
Registrated with Physiotherapy Board of Australia
Registration Number : PHY000-11-53-756



Other Conditions treated:
Stroke
Parkinson's Disease
Elderly condition
Deconditioned
Falls
Post-operation recovery
Fracture
Massage
Pain - Shoulder, Neck, Back, other joints
Total Hip Replacement
Total Knee Replacement
post-surgical rehabilitation
Musculoskeletal, Orthopaedic and Sports Physio
Cardiopulmonary (CP) Physiotherapy Services
Neurological Physiotherapy Services
Geriatric Physiotherapy Services
Physiotherapy Modalities
Joint mobilisation and manipulation
Joint mobility exercises
Core stability exercises
Agility training
Mobility, Gait and Balance Re-training
Functional training
Neuro-sensory-motor retraining
Continuous passive motion exercise
Care-giver training
Falls Prevention
Osteoporosis
Osteoarthritis
Provide you with a continuation of patient care
Prevention of complications
Improve your newly acquired range of motion
Provide advice and progression of exercise
Home Modification
provides full medical assessment based on your problems
Education and therapy intervention will be tailored to an individual's problems
Benefits for the patient:

The patient does not need to travel, hence he will be less fatigued and more focused for his home therapy
Functional therapies are specifically tailored to the patient's familiar home environment e.g. walking, climbing stairs, other activities of daily living, etc.
Benefits for the caregiver:

Home RehabilitationTM saves travelling time for the caregiver.
More family members can participate in the therapy.
Comprehensive management:

Tailored training and education are taught to the home caregiver.
personalised advice on home modification e.g. toilet wall grab-bars, wheelchair ramps, etc.
Other Value-added Services: (by referral)

Free Home delivery*of home care products e.g. adult diapers, milk, wheelchairs, hospital beds, walking aids, patient lifters, commodes, suction pumps, leg exercisers, transfer belts, pillows, etc.
Customised home modifications(by RADAC approved contractors)e.g.widening of doorframe for wheelchairs, etc.
Home nursing services e.g.changing of feeding tubes, wounds care,
Occupational therapy, podiatry, prosthetic and speech therapy.
Alvin Chang Siang Hee
Tel : 6743-88-29 , 6748 4241
email boss@physiotherapy.com.sg











keywords: post-surgical rehabilitation,Singapore Home Therapy,Care@Home,Home Physiotherapy Specialist,Singapore Caregiver Training,Electrical Muscular Stimulation,Home Based Physiotherapy,Homebased physiotherapy,Physiotherapists,Physiotherapy,rehabilitation,Stroke Rehabilitation,Tens Machine,Training And Education,Rehabilitation Service, HouseCall Physiotherapist, home visit, Stroke, Parkinson's Disease, Elderly condition, Deconditioned, Falls, Post-operation recovery, Fracture, Massage, Pain - Shoulder, Neck, Back, other joints, Total Hip Replacement,Total Knee Replacement. post-surgical rehabilitation, Musculoskeletal, Orthopaedic and Sports Physio, Cardiopulmonary (CP), Physiotherapy Services, Neurological Physiotherapy Services, Geriatric Physiotherapy Services, Physiotherapy Modalities, Joint mobilisation and manipulation, Joint mobility, exercises, Core stability exercises, Agility training Mobility, Gait and Balance Re-training, Functional training, Neuro-sensory-motor retraining, Continuous passive motion exercise, Care-giver training, Falls Prevention Osteoporosis, Osteoarthritis,continuation of patient care. Prevention of complications, Improve acquired range of motion. Provide advice and progression of exercise, Home Modification,medical assessment. tailored Education and therapy intervention, Physiotherapy Singapore, stroke therapy, Absolute Fitness,Nursing Home,Retirement & Assisted Living Facilities,medical & surgical, first aid supplies, sports medicine supplies, rehabilitation healthcare, incontinence, pressure prevention systems, MOBILITY CLINIC, Health Care,Neck Pain ,Sports Injuries ,Back Pain ,Chiropractor,high quality physiotherapy and rehabilitation services,elderly (falls prevention, maid / caregiver training, memory issues Occupational Therapy ,dreamliner pillows, Chiropractor HeadacheBack&neck Centre coremuscles Pain Management, NeuroAiD, Osteopathy and Podiatry Centre, pain management comprehensive treatment programs highly personalized and specially tailored, fracture management ,engineering, hospital supplies, medical aesthetics, physiotherapy, rehabilitation, clinical skills lab and fitness and recreation Retirement & Assisted Living Facilities Backcare Resources, Bathroom Safety, Knee Pain rehabilitation, Rehabilitation Equipment, Rehabilitation Products, Walking Aids, Walking Aids ,For Elderly Wheelchairs, Aneurysms ,charity ,Head Injury ,Hospital ,Hydrocephalus ,Intensive Care ,Neurologist ,Neurology ,Neurosurgeon, Neurosurgery ,Physiotherapy ,Psychiatry, Psychological ,rehabilitation, Social Work, Tertiary Education, Trauma ,Tumours ,university ,Urbanrehab's Home Therapy Program ,One-Client-One-Therapist., Of Ergonomics, Repetitive Strain Injuries And Corporate Trainings ,Hospital Bed - home care Spinal Manipulations, and hypertension. personal training for weight management, strengthening, conditioning. massage services, Body Massage Exercise Classes Gyms Gyms & Fitness Centres Health Products & Services home Home Physiotherapy home therapy Joint Replacement Massage Massage Services Pain Parkinson's Disease Personal Training Physio Physiotherapist Physiotherapists Physiotherapy Qualified Physiotherapists Shoulder Pain Spinal Surgery TherapistTreatment Weight ManagementKinesis Physiotherapy fu kang healthcare supply pte ltd Westpoint Hospital ,Valerie Physiotherapy Centre ,HomeTherapy.sg ,The Rehab Practice ,Ptc Physiotherapy Centre ,Kinesis Physio & Rehab ,Kidz Rehab ,General Physiotherapy Practice ,DMA Clinical Pilates ,Eden Rehabilitation Centre ,SIA Physiotherapy Clinic, PhysiotherapyFirst ,urbanrehab ,Urbanrehab's Home Therapy Program Easy Wheel Services, The Singapore Epilepsy Foundation, Fitness Evolution, personalized boutique fitness programs, Focus Pilates,